MyClinic365 Patient App
MyClinic365 Patient App Registration
The MyClinic365 Patient App is only available to registered patients of practices using MyClinic365. To register with a practice you will need to make contact with the practice or check their website.
To register on the MyClinic365 Patient App is easy. There is no app to download, just go to the web link MyClinic365 Patient App where you can follow the simple registration process.
From here you will need to click on Create New Account.
It will ask whether you would like to register using your mobile phone or email.
Choose your preferred option but please be aware that some practices may not have your email address stored or may have your mobile# stored incorrectly. If you have issues registering, you will need to contact the practice to ensure your details on file are correct.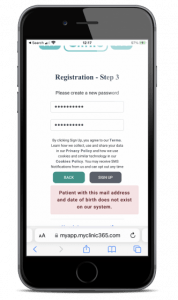 Once all details match the final step requires you to verify your email address or mobile#. We send a 6 digit pin to you communication channel of choice. Once the pin is successfully entered your account will be activated for use within the MyClinic365 app.
Once registration is completed you will be redirected to the login screen.