Registration
A zoom user is automatically created by MyClinic365 for each staff member in your practice.
To activate this account the following steps will need to be followed.
Staff member will receive an email to the email address configured in MyClinic365 with a link to activate account. Example below for Joe Bloggs
Select Sign Up with a Password
Update name if required and setup password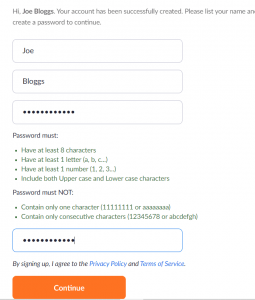 Click on continue to complete registration.
Your account is now ready to use through MyClinic365.