Step 1 – Services
Services
Before you can make a booking you need to define services and add staff. Please see the add staff section for notes on how to create new staff.
MyClinic365 scheduling service is controlled by the following:
Practice opening times need to be set

To set practice opening hours go to:

Settings\Hours and define the working days and hours for the practice
2.  Services need to be defined
to set service hours, service duration, days etc go to: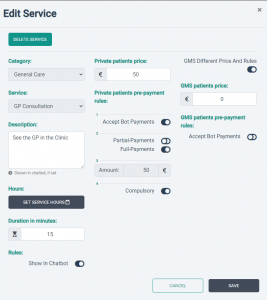 Appointment slots are automatically calculated per the duration set for each service. Therefore it is important to ensure the duration is correct for each service defined.
To accept payments for a service either through the MyClinic365 admin, the secure link or through the chatbot then the cost for the service (private and gms if different) needs to be defined.
You can also set whether you want to make payments through the chatbot compulsory or not.
3. Staff services, working time and breaks need to be defined
to set staff services, working time etc go to:

staff and double click on staff member you wish to edit

the two radio buttons control the following:

Show in chatbot – determines whether the provider is made available through chatbot scheduler
Show in calendar – this determines whether a calendar for provider is made visible for that provider
Note: At all times the most restrictive setting overrides all others eg if you set practice opening hours to 09:00-13:00 and staff operating time from 09:00-17:00 then practice opening hours overrides this.
This is to ensure a full and granular control over how you manage your practice from a services perspective.