Integrated Link to Pay
Want to make getting paid easier? Want to making sending invoices and receipts easier? Course you do. Taking card payments by email or text means it's as simple as sending a link from MyClinic365. Integrated with our appointment booking platform our integrated link to pay makes payments easy for you and your patients. All your customers need to do is click it and enter their card details, it's that simple.
1) admin staff click on send payment link when booking appointment. This automatically sends appointment details and a secure link to pay for appointment.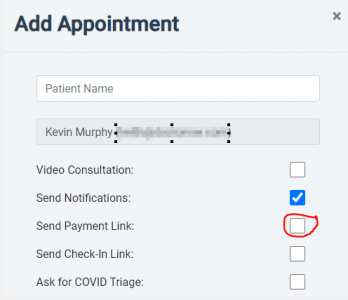 2) Patient receives booking notification and a secure link to the MyClinic365 payment portal.
3) Patient clicks on link and makes payment. This updates the patients invoice to paid, emails the receipt, and updates the MyClinic365 dashboard to paid in real time.
Receipt automatically issues on successful completion of payment.
Dashboard updated in Realtime to reflect payment