Step 2 – Making an Appointment
Appointments can be made from a number of places:
Home screen
Appointments Screen
In Consult Screen
Patient Details
Home Screen
The practitioners are expected to work from the homepage. From here they can access all the information that they should need.
You can also book appointments directly from the home screen by clicking on a free slot. This opens the booking dialog box and prepopulates as much information as possible.
To select a patient you start typing their name and it offers suggested patients, it continues to filter as you type.
You also need to select the service type which automatically determines the duration. You can manually edit this if required.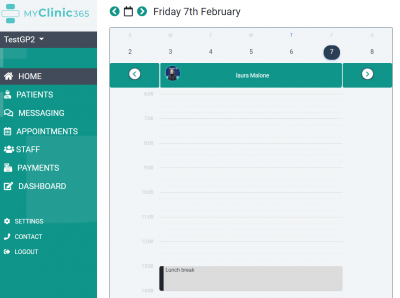 There are shortcuts added for jumping weeks.
To move between days you click on the day you require. it always defaults to the current day.
Appointment Screen
This view has been designed for busy practices that may have one or many admin staff managing appointments.
It allows them to quickly book and manage appointments.  The quick jump widget allows the user to quickly jump to a day, week or month.
In Consult Screen
From here the practitioner can quickly book a follow-up appointment by clicking the follow-up button.