Video Consultations
MyClinic365 Video Consultations – What is this service?
MyClinic365 has built this service to ensure there is a secure, gdpr compliant method to enable healthcare professionals to perform remote video consultations with their own patients, with their teams and with other allied healthcare professionals.
We have selected Zoom to provide this service because of its ability to provide a reliable and consistent clinical user experience. The service integrates seamlessly with our patient management, staff management, chatbots and payment modules to ensure a seamless experience for all. Appointments can be created for a specific time, specific clinician and patient. All your staff will now have the ability to easily consult with their own patients online.
All modern browsers are supported with native apps available for IOS (iphones, ipads etc) and Android.
How does it work?
Video consultations become available once the Video Consultation service is activated in the MyClinic365 control panel.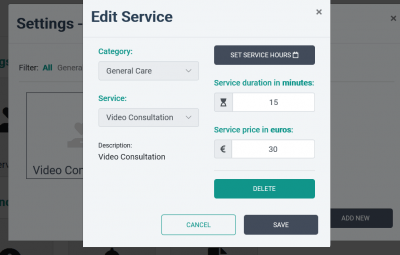 Practice decides what clinicians will offer this service. If required the practice can also decide to enable the service through the practice chatbot allowing patients to book video consultations online.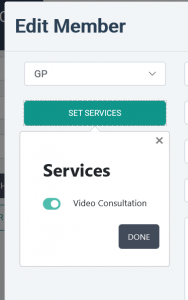 When booking an appointment the Video Consultation service is selected. This generates a new meeting. This automatically sends notification to the patient (email or text or both)and creates an appointment within the MyClinic365 admin platform.
When the patient clicks on the appointment they will be taken to a virtual waiting room. The appointment in MyClinic365 is updated to notify the clinician that their patient is now in the virtual waiting room.
The clinician can now enter the meeting by clicking on the link embedded with booking and will be able to consult with the patient through video.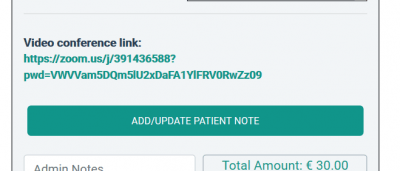 How do I take payments?
there are a number of ways to take payment through MyClinic365
 Cash or existing POS
 We have integrated our platform with Stripe (stripe.com) to allow clinics to process their payments. This requires the practice to register withy stripe.
Online – through either prepayment or full payment. Clinic can set business rules to collect either a pre-payment or full payment at time off booking. Again this requires a stripe account.
Send click to pay link – sends a payment link to the patient and allows them to pay securely online.
System requirements
An internet connection – broadband wired or wireless (3G or 4G/LTE)
Speakers and a microphone – built-in or USB plug-in or wireless Bluetooth
A webcam or HD webcam – built-in or USB plug-in
Or, a HD cam or HD camcorder with video capture card
Supported operating systems
macOS X with macOS 10.7 or later
Windows 10
Windows 8 or 8.1
Windows 7
Windows Vista with SP1 or later
Windows XP with SP3 or later
Ubuntu 12.04 or higher
Mint 17.1 or higher
Red Hat Enterprise Linux 6.4 or higher
Oracle Linux 6.4 or higher
CentOS 6.4 or higher
Fedora 21 or higher
OpenSUSE 13.2 or higher
ArchLinux (64-bit only)
Supported tablet and mobile devices
Surface PRO 2 running Win 8.1
Surface PRO 3 running Win 10
iOS and Android devices eg iphone, ipad
Blackberry devices
Supported browsers
Windows: IE 11+,  Edge 12+, Firefox 27+,  Chrome 30+
Mac: Safari 7+, Firefox 27+,  Chrome 30+
Linux: Firefox 27+,  Chrome 30+