Connecting patients and practices through one custom-designed digital portal.
The MyClinic365 healthcare portal is a website and app where patients can find healthcare services in Ireland. Patients can use the MyClinic365 healthcare portal to find a doctor, dentist, counsellor, or allied healthcare professional by selecting their visit reason and location. Our portal lists health professionals in their area, providing directions, information about practices and HCPs, verified reviews, and more. Healthcare providers can capture the information they need with our dynamic patient intake forms.
The MyClinic365 portal gives patients and providers the ability to share information alongside key services like appointment scheduling, payments, and secure messaging.
Patients choose from a list of in network providers who have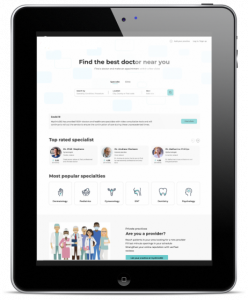 availability for an in-person or telehealth appointment. Or they can send a secure enquiry through the platform.
Time slots are synced with your calendar. Patients can book an available time and receive appointment reminders. Payments and triage are automated as required.
Patients come for in-person appointments at your practice or attend video visits using the MyClinic365 Portal or app. In other words, see patients anywhere using video consultations which still make up 10% of all visits.
It is a fantastic way to reach new and existing patients and improve patient retention.
Clinics can fill last minute capacity and ensure all capacity in their schedules is filled
With verified reviews from real patients' providers can strengthen their online reputation.
MyClinic365 matches its portal with practice efficiency tools that help practices save time behind the scenes and improve the patient experience. All MyClinic365 healthcare users can seamlessly move to use the MyClinic365 platform efficiency tools. It is affordably priced without compromising.
All practices can expect time savings and improvement to the patient experience in addition to increased online visibility, patient retention and practice growth.
Put simply, MyClinic365 Healthcare Portal is a trusted portal for patients and a proven platform for clinicians – all in one.